We've continued to make progress towards our EDI agenda and action plan. Through a wide range of initiatives, campaigns and the growth of our EDI networks, we've seen increased levels of engagement from colleagues and strengthened commitment to our agenda by the Senior Management Team - in terms of their investment, leadership and engagement. Our Senior Management Team members each support one of the eight EDI networks - providing additional support, an understanding of the challenges discussed and support for the groups with progressing actions.

Here are just some of our recent achievements:
Dignity at work campaign - launched in March 2022 and running until December, it aimed to better embed our commitment to a culture which is safe from any form of harassment, bullying or discrimination. Following a live launch event, it's been supported by the introduction of the Dignity at Work Policy and Charter, training and follow-up events throughout the year.
EDI e-learning module - developed in-house for all colleagues to enhance knowledge of EDI - and the impact they have on driving organisational performance. This includes our commitment to achieving inclusivity from 'day one' of employment, as well as raising awareness of our dignity at work policies and how to join our networks.
Live keynote speaker events - since September 2021, thought provoking speaker events have taken place including John Amaechi, Cheddar Gorgeous and Kelechi Okafor. They've been well attended and aimed at developing knowledge across different EDI subjects and to encourage open discussions on the topics that matter.
EDI related accreditations – we've achieved a number of accreditations including:

- All equals charter - 'Good Practice' level within 6 months of having achieved 'foundation' level.

- Armed Forces covenant - Defence Employer Recognition Scheme awarded 'Bronze status' – enabling us to recognise, understand and support those who serve (or have served), as well as family members of the armed forces, to ensure fairness and accessibility to our services.

- RLW accredited employer - in August 2022, we were accredited as a Real Living Wage employer and over the next year we are working towards the upcoming milestones in our action plan.

- Disability Confident Scheme - in August 2022, we were re-accredited as a 'Disability Confident Leader'. It's valid until August 2025 and we'll use this time to continue taking an active role helping other employers on their journey to becoming Disability Confident.

- Family friendly policies review - in autumn 2021 we became a member of Working Families - the UK's work-life balance charity. They conducted an assessment of our family friendly policies and benchmarked them against a range of organisations.
Measuring our impact
We've been reporting our EDI workforce statistics for 3 years. In our most recent report in 2022, we saw an overall improvement in how more diverse our organisation is, compared to previous years. This is a journey, and we must continuously improve until we become more representative of the communities we support. In summary:
The average age decreased by 2 years from 43 to 41
35.7% of colleagues were aged 34 and under (31.2% in 2021)
65.3% of colleagues were aged over 34 (68.6% in 2021)
We've seen an increase in colleagues representing ethnic communities over the past 3 years: from 12% in 2020, to 14.9% in 2021 and to 16.5% in 2022
6.1% of managers from an ethnic minority community (increased 0.9%)
LGBTQ+ representation increased from 4.2% in 2020 to 8.9% in 2021, this decreased in 2022 to 7.07% despite an increase in numbers from 90 to 114
Our gender split had remained stable in 2020 to 2021 at 40% Male and 60% Female; in 2022 this changed to 38% Male to 62% Female
The number of employees who've disclosed a disability has increased from 9.7% in 2020 to 12.3% in 2022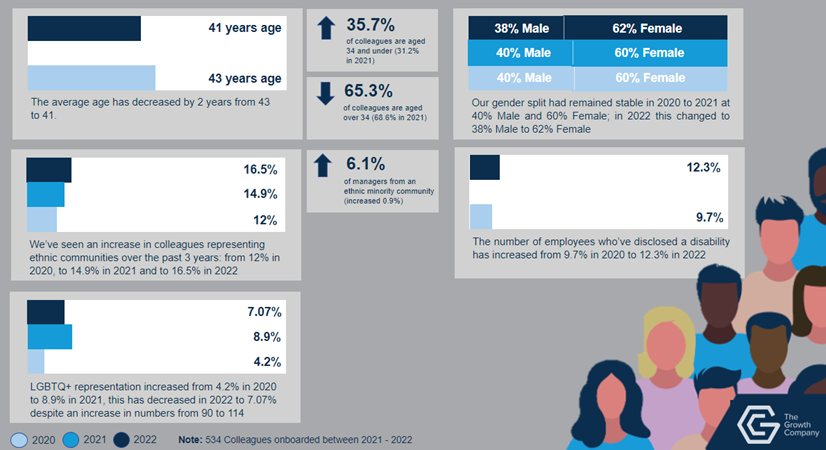 Click here for a downloadable description of the infographic above.